Growing up playing baseball there was one go to sunflower seeds brand where I lived and that was David. I remember always having a bag of plain or ranch, if I was lucky, in my batting bag. Like most kids my age, I would pop a huge handful into my mouth during warm-ups and endlessly eat them until games end. Needless to say, I became professional shell spitter and like riding a bike, I still have that skill. Yeah, such an accomplishment!
As an adult, I do not eat seeds nearly like I did in my youth. However, I recently went my corner gas station and noticed they had an assortment of sunflower seeds brands. There were also a lot of sunflower seeds flavors that weren't around when I was a kid. I decided to pick the below pictured Bigs Vlasic Dill Pickle seeds. These turned out to be amazingly tasty for a sunflower seed and worth the overpriced gas station price I paid. I haven't had a lot of pickle flavor seeds but these are now my favorite. You can probably tell by the picture how much I liked them because I just bought them yesterday and ate well over half the bag.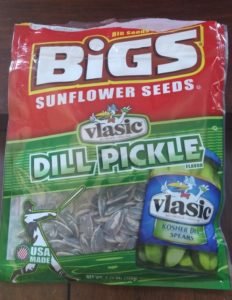 Anyway, my pleasant experience with Bigs inspired me to do some research to see how many sunflower seeds brands are out there. I decided to create the below list which includes the sunflower seeds flavors and brands. Hopefully, this makes it easy for readers to find different brands and flavors of sunflower seeds to try.
Please comment below your favorite sunflower seeds flavors and/or brand. Also, let me know of a brand or flavor that I may have missed and I can add it asap.
Brands
Flavors
Website
Bigs
Sunflower Seeds: Original, Vlasic Dill Pickle, Bacon Salt Sizzlin' Bacon, Hidden Valley Ranch, Sea Salt & Black Pepper, Stubb's Bar-B-Q, Old Bay Seasoned, Heinz Salt & Vinegar, Frank's Redhot Buffalo Wing.

Kernels: Savory Wasabi, Simply Sea Salt.
www.bigs.com
Bob's Red Mill
Raw (No Shell)
www.bobsredmill.com
Braga Organic
Kernels: Raw, Roasted & Salted.
www.buyorganicnuts.com
Chinook Seedery
Sunflower Seeds: Original, Smokehouse BBQ, Hatch Green Chile, Dill Pickle, Cinnamon Twist, Parmesan & Pepper.
www.chinookseedery.com
Dakota Style
Sunflower Seeds: Original, BBQ, Dill, Ranch.

Kernels: Honey Roasted, Salted Caramel, Savory Bacon, Unsalted, Roasted & Salted.

www.dakotastyle.com
David
Simply Seeds: Lightly Salted, Sour Cream & Onion, Black Pepper.

Jumbo Sunflower Seeds: Original, Bar-B-Q, Ranch, Jalapeno Hot Salsa, Reduced Sodium, Dill Pickle, Buffalo-Style Ranch, Chili Lime, Sweet & Salty, Sweet & Spicy, Cracked Pepper.

Regular Sunflower Seeds: Original, Bar-B-Q, Ranch.

Sunflower Kernels: regular kernels.
www.davidseeds.com
Frito Lay
Sunflower Seeds: Kernels, Original, BBQ, Flamas, Ranch.

Extra Large (Behemoth): Original, Bacon.
www.fritolay.com
Food To Live
Kernels: Organic Raw Unsalted, Raw Unsalted
www.foodtolive.com
Galil
Sunflower Seeds:Roasted & Salted, Roasted No Salt.
www.galilco.com
Gerbs
Sunflower Seeds: Habanero Roasted, Chipotle , Toasted Onion & Garlic, Salt Lovers, Sea Salted, Lightly Sea Salted, Unsalted, Raw.

Kernels:
www.mygerbs.com
Giants
Kettle Roast Sunflower Seeds: Salty Sweet, Sweet Dill Pickle, Toasted Coconut, Fresh Cracked Pepper.

Sunflower Seeds: Bacon Ranch, Dill Pickle, Pepper Flavored, Sriracha, BBQ, Salted.
www.giantseeds.com
Good Sense
Sunflower Nuts: Chipotle, Honey Roasted, Ranch, Raw, Roasted No Salt, Roasted Salted, Sweet Thai Chili, Sunflower & Pumpkin Seed Mix.
www.waymouth.com
Hoosier Hill Farm
Kernels: Roasted No Salt, Roasted Salted.
www.hoosierhillfarm.com
Inhale BBQ
Sunflower Seeds: Original, Spicy BBQ, Garlic, Sweet Heat, Chile Limon, Black Pepper, Ghost Pepper, Pickled.
www.inhalebbq.com
Interstate Bait
Sunflower Seeds: BBQ Pit, Big Game Brisket, Bloody Mary, Blue Buffalo, Churr-OH, Curry Spice, Dill Pickle, Salty Pepper, Savory Garlic, Simply Salted, Smoked Jalapeno, Sweet Cheeks,
www.interstatebait.com
Jumbo
Sunflower Seeds: Original, Ranch, Dill, BBQ, Salt & Pepper, Sweet Chipotle, No Salt.
www.jumbosnacks.net
Now Foods
Kernels: Raw Unsalted, Roasted Salted, Roasted Unsalted, Organic Raw Unsalted.
www.nowfoods.com
Planters
Sunflower Seeds: Roasted & Salted

Kernels: Kernels
www.planters.com
Sincerely Nuts
Sunflower Seeds: Roasted & Unsalted, Roasted & Salted, Large Roasted & Salted, Large Roasted & Unsalted.

Kernels: Raw, Roasted & Salted, Roasted & Unsalted, Organic Raw.
www.sincerelynuts.com
Smischny's Smokin Hot Nuts
Sunflower Seeds: Garlic Smoked, Habanero Smoked, Jalapeno Smoked, Nacho Cheese Smoked, Smoked Ranch.
www.smokinhotnuts.com
Spitz
Sunflower Seeds: Dill Pickle, Cracked Pepper, Salted, Salted Caramel, Spicy Sweet Chili, Seasoned, Smoky BBQ, Chili Lime.
/www.spitzusa.com
Sunrich Naturals
Kernels: Roasted & Salted, Honey Roasted, Blazin' Hot, Chili Lime.
www.sunrich.com
Swamp Seeds
Sunflower Seeds: Cajun Gumbo, Cajun Boil.

Kernels: Cajun Boil.
www.swampseeds.com
Trader Joe's
Sunflower Seeds: Roasted & Salted.

Kernels: Roasted & Salted, Roasted & Unsalted
We Got Nuts
Sunflower Seeds: Raw, Roasted Salted, Roasted Unsalted, Raw Isreali, Roasted Salted Isreali, Roasted Unsalted Isreali.

Kernels: Raw, Roasted Salted, Roasted Unsalted.
www.wegotnuts.com
Wild Dutchman
Sunflower Seeds: Original
www.wild-dutchman.com
Yankee Traders
Kernels: Honey Roasted, Roasted & Salted, Roasted No Salt
www.yankeetraders.net
Zotes
Sunflower Seeds: Bleu Cheese, Beer Baked, Dill Pickle, Salt & Pepper, Jalapeno, Garlic Roast, Hot Wings, Jamaican Jerk, Roasted & Salted
www.zotes.com